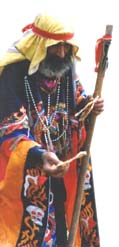 Russian Rainbow Gatherings News

Note: All contact information was removed.
To get contact info, write Misha Charaev to ninis@glas.apc.org
Also you may write me. /webmaster/
---

    Subject: 
            Re: Gathering in Russia
    Date: 
            Tue, 30 Sep 1997 14:38:44 +0400 (WSU DST)
    From: 
            Misha Charaev 

Now after our first preparatory meeting I can come back to you with some
information. We were only a few people at the Council which showed again
that all the Gatherings in Russia are prepared by the small group of
friends. Hopefully after spreading around this information through the
Russian focalizers net we will get some more support. We found out that at
the moment we are unable to make 1000 invitations. Actually we cannot tell
how many we can do, we should use the "cotton radio", asking the friends of
friends etc. But we don`t think that it makes the whole thing impossible, if
you will send the lists and the money as soon as possible. I hope that if we
could make the invitations during the long period of time, it could work.
But - please ask all the people who will give their names for the
invitations to try other possibilities first (sometimes people could find
other means or even afford to buy the visas from some cheap travel agency).
One more important thing - according to Russian laws, every foreigner who
come to Russia for a private visit have to register at police (like it was
in Slovenia). Otherwise there is a chance they could be charged some penalty
when leaving the country. From my personal experience, nobody from my
foreign guests did register and nobody got in trouble. But I think it is
better for people to be warned. Especially because the foreigners in the
Moscow or Petersburg are something people got used to, but usually there are
no foreigners in the countryside (the good side of it is the fact that the
police there has no idea about any laws concerning the foreigners). 

As for the Gathering time - we would like to propose the dates 2 - 16 of
July with the Foulmoon celebration about 9th. 

The site - we cannot do the foul scale scouting now, because of the lack of
money and transport - everybody just got back from summer travelling. It`s
getting quite cold now and a month later all the countryside north from
Moscow will be covered by the snow. But we have some idea about the
approximate area of the scouting - like Onega or Ladoga lakes (check the map
- they are huge!) not far (200-300 km) from the Finnish border. To do
scouting there in this season we need a car, maybe somebody from Finland
could come over here with the van or smth, so we could travel there
together? Another proposals are the Tver or Novgorod areas (between Moscow
and Petersburg), but for me that doesn`t seems that attractive (more easy to
get there, too many people). We will make a short scouting trips there in a
few weeks.

OK, that seems to be all,

Greetings,
                Misha

Misha Charaev

ninis@glas.apc.org

 (if you send the private letter, please add FOR:MISHA
in Subjectline)

http://www.glasnet.ru/~ninis (The Homepage of "Nonviolence International -
Newly Independent States")

        "The politicians are completely ill people"

                        "If you are still interested in politics, you
                        better go to the toy shop and buy toy soldiers -
                        you will bring less harm!"

---



Subject: 
            Rainbow Newsletter 3/97
    Date: 
            Tue, 30 Sep 1997 14:38:59 +0400 (WSU DST)
    From: 
            Misha Charaev 

>Hi,
>
>on Friday we finished sending the paper version of the newsletter, now I'm
>sending you the electronic one... This time the newsletter doesn't start
>with the events list, since there are texts on computer use and Rainbow I
>regard more important. In short, we've learned in Greece that there has
>been consensus on the european gathering in Ireland 1993 to use computers
>only as typewriters.  Personally I think eMail use is okay (see below), but
>I do agree that internet use is out of the bounds we have set ourselves
>with this consensus, so I think, too, the european family shouldn't use the
>internet as long as this consensus exists. 
>
>       Yours
>         Michael
>
>
>On Computer Use
>===============
>
>On the European Rainbow Gathering 1993 in Ireland was a council about using
>computers. It was decided by consensus that we use computers only for
>typewriting. Nothing else! 
>Up to now there has not been a new consensus!
>It is important to discuss all different opinions about using the internet
>and e-mail in a new circle because internet and e-mail are already in use,
>however. 
>It is irresponsible to spread official data like addresses without asking
>the person or group before!
>If you do not agree it is on you to continue the discussion to have a new
>consensus.
>Please respect the decision of the families.
>
>               Lothar Depping, Christian Grewatsch & others 
>
>Michael's statement
>===================
>
>I'm sending out info via eMail. I think that's okay, since we couldn't keep
>contact to the people in Russia otherwise (their mail system isn't reliable
>and telephone isn't enough). Also I don't think the differences between
>writing something on a typewriter and sending it by normal mail and writing
>something on a computer and sending it by electronic mail is that big.
>I do agree that internet is different and that it shouldn't be used as long
>as this consensus exists.
>
>               Micha  
>
>
>Events List
>===========
>
>now - May 1st, 1998    Peace Camp continues as Rainbow-Winterlager (winter
>                       camp) at new site
>
>Oct. 1st - 5th         Wiedersehenstreffen, Schwaebische Alb near
>                       Schwaebisch Hall
>
>Oct. 25th - 27th       Vienna, 1st meeting point of caravan to India.
>                       We want to got to INDIA by public transport
>                       (busses), we meet at Stefan Nowotny
>                       If you want to join us, get the visa before. First
>                       you need the Pakistan visum (takes some days), then
>                       you can get the Iran visum (takes around 4 weeks).
>                       Iran visa for women are only available in the
>                       home country. The India visa we want to get in
>                       Pakistan. We want to travel slowly and in harmony.
>
>Nov. 1st - 3rd         2nd caravan meeting point at Butterfly valley,
>                       Turkey. How to get there: from Izmir or Istanbul to
>                       Fethiye, there minibus to Oeluedeniz beach, then
>                       ferry to Butterfly valley. Alternative: Boat from
>                       Rhodos.
>
>Nov. 1st - 14th                7th Israel Rainbow.

>
>Dec. new moon          Dutch gathering. 
>       - full moon    
>
>Dec. 5th - 22nd        South African Gathering. 
>                       Without love in a dream it will never come true!
> 
> May 1998 new moon     Dutch gathering.
>         - full moon
>
>July 10th - Aug. 8th   16th european Rainbow gathering in RUSSIA!
>                       Visa to Russia: The visa situation is being
>                       checked, getting cheap visa can take about two
>                       months.
>                       Contact: Dmitry Linov, Tel. {skipped}
>
>Autumn '98             Kaukasus Rainbow gathering, following the main one.
>
>
>Rainbow Related Events
>======================
>
>Oct. 15th - 24th       Second major camp of the Ganga Worship Caravan in
>                       Allahabad, on it's way to Calcutta for the Ganga 
>                       Festival (Jan. 14th '98)
>
>Oct. 25th - Nov. 20th  Third major camp of the Ganga caravan at Varanasi.
>
>November?              A nuclear waste "Castor" transport to Ahaus
>                       (Muensterland, Germany) is expected for November or
>                       April. Hopefully there will be a colourful
>                       resistance like in Wendland.
>??? - end of Dec.      Fourth major camp of the Ganga caravan at Mayapur,
>                       close to Krishna Naggar.
>
>Winter '97             Ting-Moete (scandinavian meeting). 
>
>March 1st - April new   Kumbha Mela Festival in Haridwar U.P. Preparations
>            moon '98   starting in January.
>
>July 15th - Aug. 15th  Caravan of Fantasy and Peace. 50 Artists traveling
>                       with vehicles in the area of Osnabrueck/Germany,
>
>
>Other Info
>==========
>
{skipped}
>
>What I Left Out
>===============
>
>- The new International Focalizers List is available only on paper, since
>  electronic distribution seemed us too risky. This data is "internal", and
>  abuse (like using it for advertising) is easier if it is spread as 
>  computer data.
>
>- The tour dates of Dead End from Switzerland.
>
>- A text "What is Rainbow?"
>
>- A longer explanation about the Karakaxes project.
>
>- Two songs and some nice graphics.
>
>
>
>The European Info Coordination
>==============================
>
>The european Rainbow Info Coordination collects information about gatherings
>etc., creates the newsletters and sends them to focalizers all over Europe
>& beyond. To spread information like that, we first need to have it. So
>please, tell us if you are planning something, and tell us early enough...
>
>We are:
>
{skipped}


Реклама на сайте
телевизоры жк | 20LC1RB | 26LC3R | 27LZ55 | 42LC2R | 47LB2RF | LE15S51 | LE20S52 | LE-26R82 | LE32R81